Looking for a fun dinner full of colors and design? Look no further Pretty Pasta Co. has exactly what you need! This delicious meal will have everyone wanting more!
Baked Pretty Pasta Roll Ups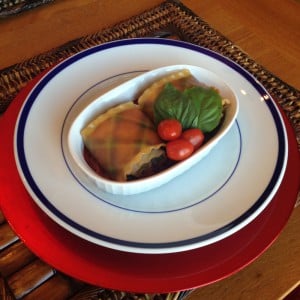 (Makes 4 side dish servings)
Ingredients:
8 Long Pretty Pasta Company Lasagna Noodles
1/4 cup chopped onion
2 tablespoons butter
3 tablespoons all-purpose flour
2 cups milk
1/4 cup dry white wine
1 cup shredded mozzarella (4 ounces)
Spinach and Ricotta Filling
Jar of Pretty Pasta Sauce
Ground nutmeg (optional)
Grated parmesan cheese
1. Cook pasta in boiling unsalted water just till tender; drain. Rinse in cold water; drain.
2. Meanwhile, in saucepan cook onion in butter or margarine till tender. Stir in flour; add milk all at once. Cook and stir till thickened and bubbly. Add wine. Stir in mozzarella cheese until melted.
3. Spread 1/4 cup of filling on each strip of pasta and roll up. Pour the white cheese sauce in the bottom of the baking dish (or dishes) and sprinkle with nutmeg. Arrange filled pasta in a baking dish on top of the cheese sauce.  Cover with foil. Bake in 350F oven for 25 to 30 minutes or till heated through. Pass parmesan cheese.
4. Enjoy!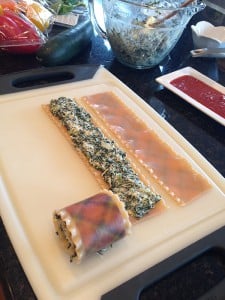 Spinach and Ricotta Filling
Ingredients:
1 pound fresh spinach or 1 10-ounce package frozen chopped spinach
1 tablespoon finely chopped onion
1 tablespoon butter or margarine
1 beaten egg
2/3 cup ricotta cheese
1/2 cup grated parmesan cheese
1/8 teaspoon ground nutmeg
1. In large covered saucepan simmer fresh spinach in a small amount of water for 3 to 5 minutes. (Or, cook frozen spinach according to package directions). Drain well. Squeeze spinach to remove excess moisture. Chop fresh spinach.
2. In skillet cook onion in butter or margarine till onion is tender but not brown. Add spinach; heat through. In mixing bowl combine egg, ricotta, parmesan, nutmeg, and spinach mixture. Use to stuff desired pasta. Makes 2 cups filling.