lt All Started With A Homemade Christmas Gift For A Special Patient…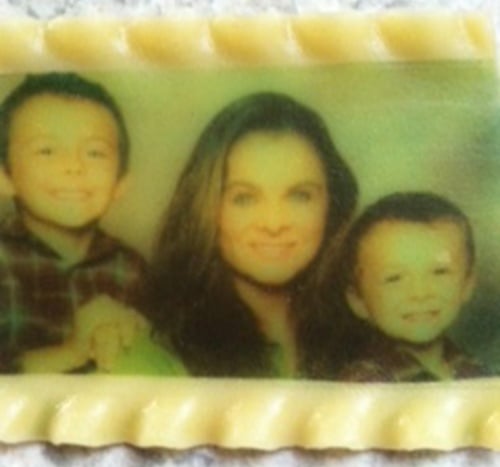 Hello! My name is Shawn Murray- Laursen and I would like to introduce you to Pretty Pasta Company!
In 2006, as a student nurse at a local Michigan hospital, I was caring for a patient named Jeanine, who also shared a love for pasta. Our conversations always centered around pasta discussions during her medical treatments. I had a soft spot in my heart for Jeanine, as she was homeless and never had any visitors or family in to see her.
Knowing that this would be her last Christmas as her health was rapidly deteriorating, I decided to make her a special Christmas gift. As a single mother of two young sons, and making my way through nursing school, funds were scarce. I decided to make my patient homemade pasta on a very tight budget.
I spent hours in the kitchen making homemade pasta for her special gift. But after it was complete, it was a bit too plain, a little too boring, and just not good enough as a gift for her.
I pondered and thought about what I could do to make this pasta extraordinary and memorable. So, back to the cutting board I went. Combining my love for art and pasta, I began sketching Christmas designs and recreated these images using pasta. This resulted in various three dimensional shapes of presents, Christmas trees, wreaths, stockings, gingerbread men, snowmen, etc. I added special touches to the shapes using colored dough created by using fruits, vegetables, spices, and food colorants. Special touches were added such as Christmas lights, bows, polka dots and stripes to the individual shapes.
When my patient, Jeanine, opened her gift, her eyes lit up and tears began to roll down her face. She said "This is the most amazing gift I have ever received. It's the prettiest pasta I have ever seen." Soon after, nurses and physicians gathered by her bedside to see the gift and wanted to know if I could make them some, too. The happiness I felt for that brief moment in time was unexplainable. I have never seen so much joy and happiness in a hospital before, and I have never forgotten that feeling.
Jeanine told me that her wish for me was to share this amazing pasta with the world so others could experience the joy she felt with this gift. Jeanine passed away shortly after Christmas, and I have never forgotten her words: "This is the prettiest pasta I have ever seen, my wish for you is to share this with the world so others may experience my joy." So, Pretty Pasta Company™ was born.
As a single mother of two boys and working as a registered nurse, I have spent most of my spare time for the past 8 years on research, development, business planning, and pasta designs. After a great deal of failures, frustrating moments, late nights and early mornings, I remained persistent and stuck to my end goal of perfecting my pasta designs. These pasta designs are continuously evolving into thousands of designs, from categories from A to Z. Our catalogues are regularly being updated. I began a mini empire of designer pasta, taking pasta to a whole new level no one had ever seen before.
From 2006 to 2014, the designs and methods have been refined and elaborated upon, which has evolved into a process where the designs and images remain on the pasta throughout the boiling process. There is no blurriness or distortion of the image on the pasta after it is boiled. This new breakthrough occurred in 2013 after seven years of research and development. Having degrees in chemistry, biology and nursing, I pulled from my science backround which led to my pasta invention. As a result, SKETCHARONI™, PHOTOCCINI™, TEXTARONI™, DESIGN A NOODLE™ and TEXT A NOODLE™ Brand pasta was born! Realizing that my Graphic Design and Photo Imaging Pasta was the first of its kind, I consulted with a patent attorney and currently have a Patent Pending with the United States Patent and Trademark Office.
The PASTA-bilities are endless! It all starts with a sketch or painting, then progresses from the canvas to the kitchen! That's where the magic begins! Designs are created using recipes which may include fruits, vegetables, spices, food colorants and flavorings to create vivid and vibrant designs on the pasta. All ingredients are 100% edible and FDA approved.
It is my honor to share this gift with ALL pasta lovers around the globe, and fulfill Jeanine's wish by bringing Pretty Pasta Company™ Brand pasta to YOUR kitchen table!
Bon Appetit! Shawn Murray- Laursen Founder & CEO
Pretty Pasta Company…. The Most Entertaining Pasta On Earth!™